ACCOMMODATION
We propose a choice of 4 types of accommodation :
- GUEST-HOUSE
- B&B
- SELF-CATERING
- HOTEL
The correct choice of accommodation often play a major role in the success of a fishing trip abroad. Comfort, conviviality, flexibility and proximity of the fishing beats are a must. Fully aware of these requirements, we have chosen over the years accommodations which have to date, always fulfilled our customers expectations.
GUEST-HOUSE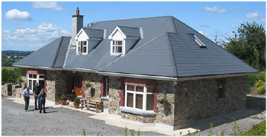 HALF-BOARD B&B + Evening Meal
Pack-Lunch available ( 5 £ extra/per person /per day). This type of accommodation is a lot more flexible and more convivial than an Hotel (breakfast and evening meal hours can be negotiated to suit the fishermen eager to fish early in the morning and late at night. The quality of the service is excellent (welcome, cuisine, comfort and hygiene are all irreproachable). In Ireland, where in the last few years the hotel prices have risen sharply, this type of accommodation is becoming increasingly popular and represents better value for money.
B&B

HALF-BOARD : B&B + Evening Meal
Pack-Lunch available ( 5 £ extra/per person /per day).
This formula provides the same services as the Guest- House and the quality of the service is also of a high standard. This establishment has also a Pub next door!
SELF-CATERING
We offer the choice of 2 very comfortable houses, catering for up to 6/7 people. Very well equipped, and located near most of Suir Valley Fishery fishing beats, these private accommodations are ideal for a group of persons looking for autonomy and a total control over the way they want to plan their fishing or shooting holidays.
Rental only from a Saturday to a Saturday.
BALLYPATRICK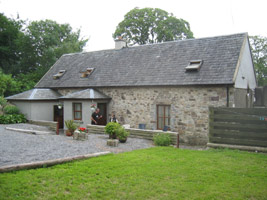 Located in the countryside, less than 10 min drive away from 3 of my the best Trout &Salmon fishing beats, this lovely old stone house, newly renovated can easily cater for 6 adults and includes :
- Kitchen/Dining room.
- Utility room with washing machine etc..
- Sitting-room with open fire and TV.
- 4 bed-rooms with 2 with ensuite bath-rooms.
- Toilet & WC dowstrairs.
- Shed useful for drying the body waders.
- Garden with private parking and bar-be-cue.
This house is located 3km away from the village of Kilsheelan (2 grocery shops, 1 butcher, 3 pubs, post office) an 10 km away from Clonmel (the largest inland Irish Town - 18.000 inhabitants, supermarkets, boutiques, Tourist-Office, Pubs & Restaurants, Tennis, Swimming Pool, Golf, Horse-riding, etc.).
Rental only from a Saturday to a Saturday.
GARRYDUFF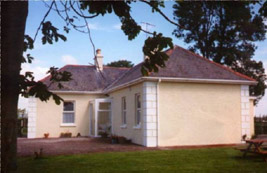 Located 1.5km from the village of Ardfinan and 15km from Clonmel, this lovely house is situated in a very private corner of the County Tipperary but nevertheless is only a 10 min drive away from 3 of my most picturesque and productive fishing beats. Superbly equipped, it is an ideal accommodation for a group of 6/7 people and includes :
- Well equipped kitchen (dishwasher, washing machine, dryer etc.)
- Dinning-Room.
- Sitting-Room with TV.
- 4 Bed-rooms (1 double with bath-room ensuit,1 room with twin beds, and 2 singles).
- 1 bath-room with electric shower and WC.
- 1 drying room for waders and fishing equipment
- Large private garden with Bar-be-Cue and private parking facilities.
This private houses can only be rented from Saturday to Saturday and the rental price is independent from the number of tenants present during the weekly rental.
Here follows a List of useful information concerning these type of accommodation :
- The cost of electricity and heating is included in the rental price ( £ 415/per week).
- The bed sheets, pillow covers, duvets and bath towels are provided.
- The cooking utensils are perfectly adequate but will be insufficient if you plan to do some « Cordon Bleu » cooking during your holidays.
- If you are very particular about the quality of your coffee, I strongly advise you to bring along your favourite brand and also your coffee maker as the one provided is rather basic.
- Don't forget to bring with you a plug adapter as it is probable that the Irish type of plugs won't fit your razor, hair dryer or mobile phone charger.
- Being very popular with my customers and limited in number, this houses are very quickly rented, especially for June and July. Therefore, I strongly advise you to make your reservation early (preferably before the end of march) in order to avoid any disappointment.
HOTELS
HALF-BOARD : B&B + Evening Meal
Pack-Lunch available - (Half-Board)
This type of accommodation is gone very expensive in Ireland and more and more of our customers chose the B&B or The Guest House Formula. Nevertheless, if required, we will be pleased to give you a quote from one of the main Hotel in Clonmel. Staying in this hotel gives the residents the right to use freely the following facilities : Swimming Pool, Gym, Sauna, Private Tennis court.

HOME WEB

© 1977-2005 E-MAIL